Sheffield City Covenanted Partnership
Sheffield Circuit

:

18th October 2016 2:15pm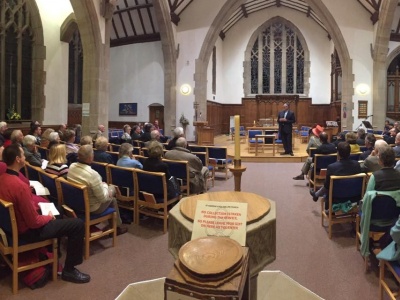 #Sheffield City Covenanted Partnership
On 11th October around 150 people gathered at St Andrew's Psalter Lane Church to celebrate the signing of the Sheffield City Covenanted Partnership in an Extended Area between the Methodist and Anglican Churches in the City of Sheffield.
On one level, the service was about a formal agreement, but really it is more about a relationship. In many ways for us in Sheffield it was the fruit of a relationship between two church leaders who shared a common vision of mission, unity and hope for the city. Sadly, neither were present — Bishop Stephen is now, of course, in Oxford and we remember with thanksgiving the life and work of Revd Vernon Marsh who died early this year only a short while after retiring as chair of Sheffield Methodist District. Click here for the full article.
Newsletter 18th June 2018
Sheffield Circuit: Yesterday
Vacancy - Family Outreach Worker
Sheffield Circuit
Aurora Promotional Video 2018 - Youth Course
Sheffield Circuit: Tuesday 22nd May
I Surrender - Hillsong Worship
Sheffield Circuit: Wednesday 11th Apr
An adventure in Christian Discipleship
Sheffield Circuit: Monday 19th Mar

Local Preacher Accreditation
24th June 2018 6:00pm
Walkley Ebenezer Methodist Church — There will be a service of accreditation for Mrs Wendy Cartwright at Walkley Ebenezer MC, Greenhow Street, Sheffield, S6 3TP on Sunday 6th June, 6 pm.

MVT
25th June 2018 7:00pm

Ordination Service
1st July 2018 4:00pm
St Oswald's Church, Ashbourne — Following reception into full Connexion at Methodist Conference, Rev. Jill Pullen will be ordained at a service taking place at St Oswald's Church, Ashbourne. Rev. Rob Drost will also be ordained at the same service. Rev. Helen (Nell) Shallow will be ordained at St John the Evangelist, Derby, also on the same day.
Attendance at these services is free by ticket which will be available to order through the Conference website on 9th April.