Sheffield City Covenanted Partnership
Sheffield Circuit

:

18th October 2016 2:15pm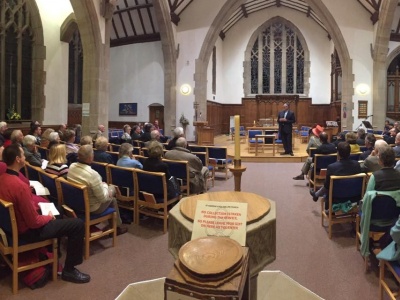 #Sheffield City Covenanted Partnership
On 11th October around 150 people gathered at St Andrew's Psalter Lane Church to celebrate the signing of the Sheffield City Covenanted Partnership in an Extended Area between the Methodist and Anglican Churches in the City of Sheffield.
On one level, the service was about a formal agreement, but really it is more about a relationship. In many ways for us in Sheffield it was the fruit of a relationship between two church leaders who shared a common vision of mission, unity and hope for the city. Sadly, neither were present — Bishop Stephen is now, of course, in Oxford and we remember with thanksgiving the life and work of Revd Vernon Marsh who died early this year only a short while after retiring as chair of Sheffield Methodist District. Click here for the full article.
Newsletter 19th June 2019
Sheffield Circuit: Yesterday
Thy Kingdom Come
Sheffield Circuit: Wednesday 12th Jun
Creating Safer Space Training
Sheffield Circuit
Growing Followers of Jesus
Sheffield Circuit: Thursday 16th Nov
Matthew West - Broken Things
Sheffield Circuit: Wednesday 8th Nov

Local Preachers Recognition Service
Today 7:00pm
Greenhill Methodist Church — Service for recognition for Mr John Ford as a Fully Accredited Local Preacher, at Greenhill Methodist Church.

Circuit Meeting
Tomorrow 7:00pm

Quiet Day
29th June 2019
Trinity Woodhouse — Opportunities to encounter God and to develop your spirituality through a mixture of leader input and quiet space. A typical day will last up to 6 hours incl lunchtime (bring a packed lunch) and refreshments, with worship, 2 sessions each including 15-20 mins input followed by an hour of quiet.
Booking essential, via Liz Wills; Tel: 0114 2610732 Email: johnandlizwills@gmail.com
More Information , Judith Jessop; Tel: 0114 2313518 Email: judith jessop@tiscali.co.uk