Sheffield City Covenanted Partnership
Sheffield Circuit

:

18th October 2016 2:15pm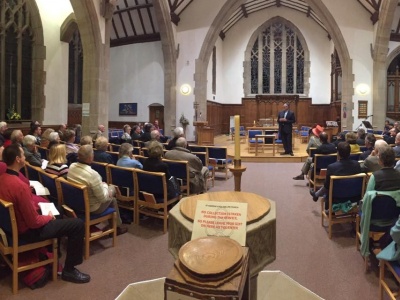 #Sheffield City Covenanted Partnership
On 11th October around 150 people gathered at St Andrew's Psalter Lane Church to celebrate the signing of the Sheffield City Covenanted Partnership in an Extended Area between the Methodist and Anglican Churches in the City of Sheffield.
On one level, the service was about a formal agreement, but really it is more about a relationship. In many ways for us in Sheffield it was the fruit of a relationship between two church leaders who shared a common vision of mission, unity and hope for the city. Sadly, neither were present — Bishop Stephen is now, of course, in Oxford and we remember with thanksgiving the life and work of Revd Vernon Marsh who died early this year only a short while after retiring as chair of Sheffield Methodist District. Click here for the full article.
Faith's Song
Sheffield Circuit: Wednesday 9th Oct
Newsletter 9th October 2019
Sheffield Circuit: Wednesday 9th Oct
Work of Marriages & Relationships Task Grp
Sheffield Circuit: Thursday 12th Sep
Creating Safer Space Training
Sheffield Circuit
Harvest 2019 - Deepen your roots!
Sheffield Circuit: Thursday 22nd Aug

Labyrinth
14th November 2019
Open House (S5 8AY) — Labyrinth
Call round at Open House to walk the garden labyrinth (or use a finger labyrinth indoors).
Please contact Judith for exact address (S5 8AY).

Next dates are:
Thursday 3rd October 2pm to 3.30pm & 6pm to 7.30pm (drop in within those time slots)
Thursday 14th November 11am to 12.30pm & 2pm to 3.30pm (drop in within those time
slots).
Further information:
Judith Jessop: 0114 2313518, judithjessop@tiscali.co.uk.

What Have the Wesleys Ever Done For Us?
16th November 2019 10:00am
Trinity Methodist Church, Chapel Street, Woodhouse — With coffee, soup and sarnies!

Quiet Day
23rd November 2019
Trinity Woodhouse — Quiet Days
Opportunities to encounter God and to develop your spirituality through a mixture of leader input and quiet space. A typical day will last up to 6 hours incl lunchtime (bring a packed lunch) and refreshments, with worship, 2 sessions each including 15-20 mins input followed by an hour of quiet
Bookings / further information (incl exact address of Open House):
Judith Jessop: 0114 2313518, judithjessop@tiscali.co.uk.
Liz Wills: 0114 2610732, johnandlizwills@gmail.com