Sheffield City Covenanted Partnership
Sheffield Circuit

:

18th October 2016 2:15pm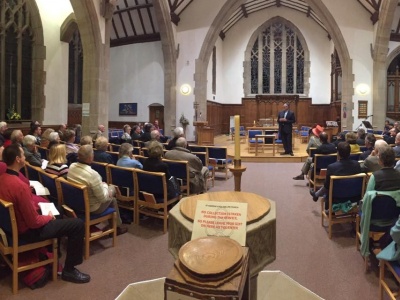 #Sheffield City Covenanted Partnership
On 11th October around 150 people gathered at St Andrew's Psalter Lane Church to celebrate the signing of the Sheffield City Covenanted Partnership in an Extended Area between the Methodist and Anglican Churches in the City of Sheffield.
On one level, the service was about a formal agreement, but really it is more about a relationship. In many ways for us in Sheffield it was the fruit of a relationship between two church leaders who shared a common vision of mission, unity and hope for the city. Sadly, neither were present — Bishop Stephen is now, of course, in Oxford and we remember with thanksgiving the life and work of Revd Vernon Marsh who died early this year only a short while after retiring as chair of Sheffield Methodist District. Click here for the full article.
God is... ?
Sheffield Circuit: Wednesday 20th Sep
Weekly Newsletter 18th September 2017
Sheffield Circuit: Wednesday 20th Sep
Sheffield Circuit Conference
Sheffield Circuit
Empty Church Sermons
Sheffield Circuit: Monday 11th Sep
'God in Real Life' 5am Series
Sheffield Circuit: Wednesday 6th Sep

CLT
9th October 2017 7:30pm

Circuit Mission Conference
4th November 2017 9:30am
Wesley Hall, Crookes — Half day Circuit Mission Conference at Wesley Hall
Keynote speaker — Andrew Roberts
Please book this date, more information is available click here
Or click here to book online.

MVT Funding
7th November 2017 7:00pm