Evening in an Art Gallery
Sheffield Circuit

:

23rd October 2017 12:07pm
Featuring: Nativity themed Art Exhibition, Creative Responses, food, hot chocolate, marshmallows ....and a Christmas movie!
Suitable for 11 — 16 year olds.
Friday 22nd December 6pm until 11pm Email: jonathanbuckley@sheffieldcircuit.org.uk to book your place today.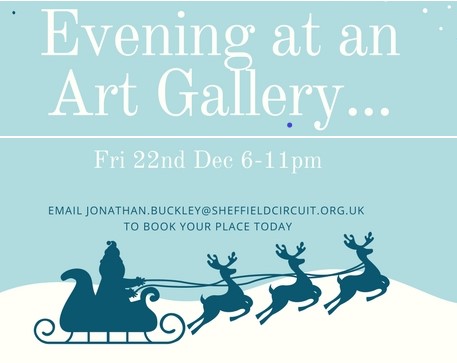 Newsletter 19th June 2019
Sheffield Circuit: Yesterday
Thy Kingdom Come
Sheffield Circuit: Wednesday 12th Jun
Creating Safer Space Training
Sheffield Circuit
Growing Followers of Jesus
Sheffield Circuit: Thursday 16th Nov
Matthew West - Broken Things
Sheffield Circuit: Wednesday 8th Nov

Local Preachers Recognition Service
Today 7:00pm
Greenhill Methodist Church — Service for recognition for Mr John Ford as a Fully Accredited Local Preacher, at Greenhill Methodist Church.

Circuit Meeting
Tomorrow 7:00pm

Quiet Day
29th June 2019
Trinity Woodhouse — Opportunities to encounter God and to develop your spirituality through a mixture of leader input and quiet space. A typical day will last up to 6 hours incl lunchtime (bring a packed lunch) and refreshments, with worship, 2 sessions each including 15-20 mins input followed by an hour of quiet.
Booking essential, via Liz Wills; Tel: 0114 2610732 Email: johnandlizwills@gmail.com
More Information , Judith Jessop; Tel: 0114 2313518 Email: judith jessop@tiscali.co.uk